With all the spring colors popping, warm temps on the way and turkey season quickly approaching (or already here in some states) it's a great time to go over ways to make the most of your photos. To me, a photo is the best way to preserve the memory of a hunt. It's not just for social media, it's a way to remember the laughs, the hard work and of course the people you were lucky enough to share it with.
To this day my all-time favorite photo was a picture where my husband, Ben, and I doubled on turkeys. We had the dogs and Jax pose for the photo, and although we didn't get it on the first try, we did end up getting a pretty awesome pic that will forever be cherished. In my opinion the number one rule of photos is be patient. You may not get it on the first try, but that's OK. Look at the photo and see what could be improved. Make the changes, and check it again.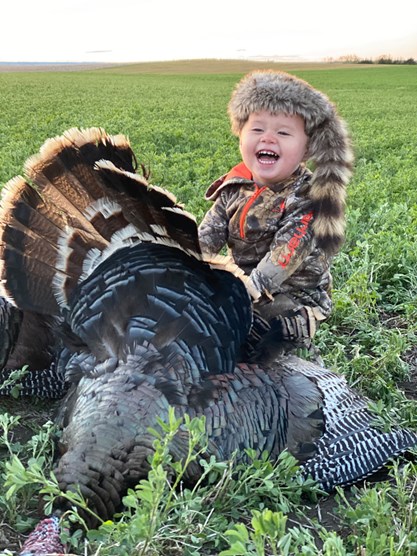 There have been many lessons learned when it comes to spring turkey pics, so this blog is all about making the most of the elements and your bird.
Position your bird. Spread the fan. I like to open the fan and place my thumb and my pinky on the first and last feather of the fan. Then open your hands up and the fan will be spread wide open, showing it off. Be sure to get it as open as possible and also slightly push your hand forward so it doesn't fall behind. You don't want it to be pushed too far forward, but if it can stay on the same plane as your face the focus of your camera will keep the fan and face in perfect focus.
Prop the bird up. I like to place the turkey on my knee, a stump, log or anything slightly elevated so the bird can stand out. If this isn't possible and you need to simply set it on the ground, try to find something that can go under it and ensure you move the leaves or grass out of the way to show off the beard.
Spread the wings. If possible, try and get the wings to spread wide open so you can show off the beautiful color and size of the turkey. This doesn't always work but it does make for a truly stunning picture if you can pull it off. Sometimes I'll use a foot to hold one of the wings and maybe a stick or branch to hold the other.
Find great lighting. Avoid harsh shadows if at all possible; find either all shade or all sun. Low light in evening or morning is always the best. I also love cloudy days as it provides a nice even light.
Pick a colorful backdrop. One thing I'm always looking at in the spring are beautiful flowers or fields full of color. These can make some of the most stunning turkey photos as it makes the colors of the turkey pop. Keep this in mind and if you find a great backdrop, remember that spot for a quick photo later!
Use flash with a hat. I'm a huge fan of using a flash for my hunting photos, because I'm usually wearing a hat which causes a big shadow on my face. If you use a flash it fills in the shadows on your face and gives you a much nicer pic. If you are using a flash, don't get too far back as your flash won't work as well.
Use your phone's portrait mode. Many people exclusively take photos using their phones and its amazing how well they turn out. Try flipping your phone to portrait mode for a few pictures to see how they compare. This mode blurs out the background and creates a short depth of field look making your photos really pop. Though, I always recommend taking a few pictures in regular mode as well.
Play with your camera lens. If you're using a DSLR style camera, backup and zoom in to create a short depth of field. This will make your background go soft or blurry while creating a crisp focus on the subject of the photo such as the person and turkey.
Details matter. Take the time to grab a couple photos of just the beard, spurs or feathers.  You may be amazed at the photos you capture when you play around with the details.
Add gear. When taking your turkey photo don't forget to add your gun, shooting sticks and decoys. Just be sure to keep the photo balanced by not piling too much on one side or the another. I always think the photo tells more of a story when you show the gear used. If our gobbler beat up the submissive hen decoy and fought our jake decoy, I love to add them in so I never forget!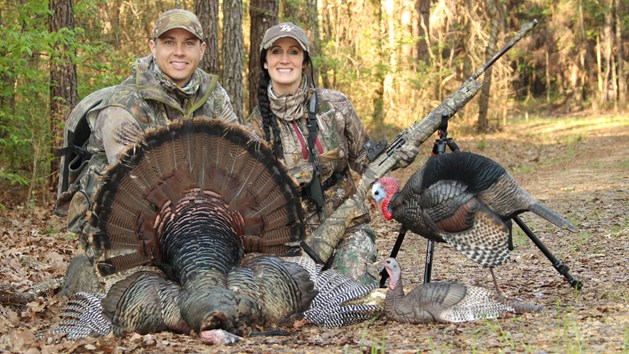 Take advantage of the timer function. If you're hunting by yourself, set your phone to timer so it takes a photo in 10 seconds, for example. Check to see if your phone has the timer mode ahead of time so you can set it up to take your own picture if needed.
Many cameras also have this so you can still get good photos on your own. If you can't get this figured out another option is to turn your video camera on, hit record and go sit with your turkey moving it around in different positions. Then go back to the video, find the moment you like best, pause the video and take a screenshot.