New shotgun announcements are always exciting—especially when the Mossberg name is attached to them—but even more so when you've had a chance to send some rounds downrange from a new model before all the hype hits the internet.
While Mossberg's product evolution now includes models destined to become equally as iconic as its original Model 500 (the wildly popular Patriot rifle and Shockwave, for example), the company shows that there is still room for a new-and-improved tactical shooting experience. After all, that is what the company promises with its latest iteration in its 940 series of 12-gauge autoloading shotguns—the optic-ready 940 Pro Tactical—which offers performance-driven features such as an optic-ready receiver, oversized controls, M-LOK compatibility, stock adjustability and an 18.5" threaded barrel to accommodate the interchangeable AccChoke choke system.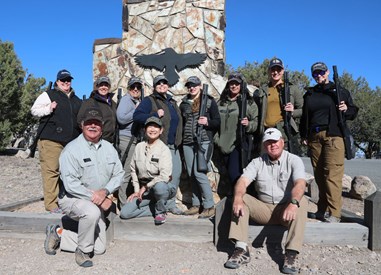 But will you be able to believe everything you read on the internet? To find out, I headed out to Gunsite Academy in Paulden, Arizona, and met up with a group of eight women, most of whom I've been shooting with for the better part of 10 years, along with renowned Rangemasters Il Ling New and Mario Marchman. We "SIREN"s (She Is Ready and Engaged) were invited by Mossberg to a pre-launch event to try out the new model, along with the new Mossberg MC2sc optic-ready pistol. 
The first thing to appreciate about the 940 Pro Tactical is that it has an adjustable length-of-pull (LOP) synthetic stock. As our group is comprised of women of various sizes, heights and ages, any feature that appeals to a custom fit is most welcome. Thus a little time was spent adjusting stocks for our individual best fit (12.5" to 14.25"). Shims were available for drop of comb and cast adjustability. The black matte stock and fore-end feature Mossberg's signature aggressive texturing, which proved helpful in maintaining a secure grip throughout our long day at the range.
On top of each gun was a pleasant surprise: a Holosun HSS507K red-dot optic. While there was a time in my life not so long ago when I rejected the need for such "helpful" accessories, I now welcome any and all friendly assistance for my aging eyes. Although the excellent included fiber-optic front sight was more than adequate for shooting at shorter distances (3 to 5 yards) using Federal's FliteControl birdshot, the red-dot Holosun was a game changer when it came to firing slugs at 25 yards. 
It had been a while since I'd put any tactical gun through its paces, and I soon was reminded that I was not out for a day of friendly trap shooting with my over-under. It took a minute for my muscles to adjust to the fast loading and reloading required in tactical exercises, but the gun's size and weight helped to facilitate shooting in this infrequently practiced manner. The enlarged and beveled loading port made it easy for me to imagine reloading the gun under stressful conditions. I especially liked the knurled, extended charging handle and oversized bolt-release lever, as the less time I have to spend searching for a control, the better! The extended magazine tube allows for a 7+1 round capacity with 2.75" shells, while the barrel clamp features a sling swivel stud, which we made good use of. As the day grew longer, and after repeatedly holding in the ready position on the line, we were grateful for the addition of a sling. The shotgun also features dual-sided M-LOK compatible-slots for the addition of accessories, which we did not use. The rear tang safety was initially a bit stiff, but broke in nicely after a good workout.
Mossberg reports that the 940 Pro Tactical, like all in its 940 family, has corrosion-resistant internal parts and finishes, including a nickel boron-coated gas piston, magazine tube, hammer and sear. The gas system is compatible with factory-manufactured 2.75" and 3" shotshells, providing for faster, reliable cycling. Remarkably, Mossberg says the gun can run up to 1,500 rounds between cleaning intervals. Thankfully we didn't find out, as we didn't come close to shooting that many 12-gauge shells over the course of eight hours on the range. However, it's important to note that I walked away from the day without a single bruise on my shoulder or cheek. I consider that a win in itself.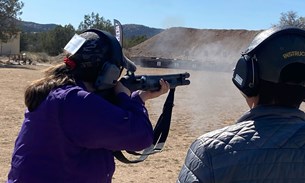 The shotgun's specifications are essential to understand how they relate to performance, but equally important is the actual shooting experience. How did we shoot? How did the gun feel? The fact that we wanted to keep shooting says a lot for the gun's proper fit, balance and outstanding recoil pad. Most of the women in our group of SIRENs are avid shotgunners of one type or another, but tactical shooting with a 12-gauge is a different experience altogether. However, since the fundamentals of good gun handling translate across all platforms, we were able to shoot these guns with incredible pain-free accuracy. By the end of the day I was ringing steel as well as any on the line. With practice my speed will improve. It takes a lot to impress me, but this gun's friendly features have convinced me I could master it as a reliable home-defense shotgun.
It is typically at the end of the day during dinner when we SIRENs have a chance to compare notes. For the 940 Pro Tactical, the standout features on which we had a consensus were the gun's remarkably low recoil and LOP adjustability. The addition of the red-dot sight helped us acquire our targets quickly, and helped make the difference between a fun day and one that had us reaching for the ibuprofen by noon. Fellow SIREN and NRA Women contributor Samantha Mann said it best, acknowledging the 940 as a soft shooter. "It has an adjustable length of pull (this can be a deal breaker for my short arms), and it comes ready for accessories (I hate unnecessary trips to the gunsmithy)," she said. "At my point in life, I want my guns to be easy to use and ready out of the box. The 940 checks those categories."
Mossberg promised a better tactical shooting experience with its new 940 Pro Tactical. Indeed the iconic shotgun manufacturer accomplished this goal at the 2022 Gunsite SIRENs event.
For more information on the 940 Pro Tactical and the complete line of Mossberg security shotguns, please visit mossberg.com.