The last day of the Women's Wilderness Escape (WWE) was the culmination of everything we had been learning all week. From shotguns to pistols to rifles to bows, we learned something new from every discipline. The final day was dedicated to long-distance shooting, lever-action rifles and 3-Gun.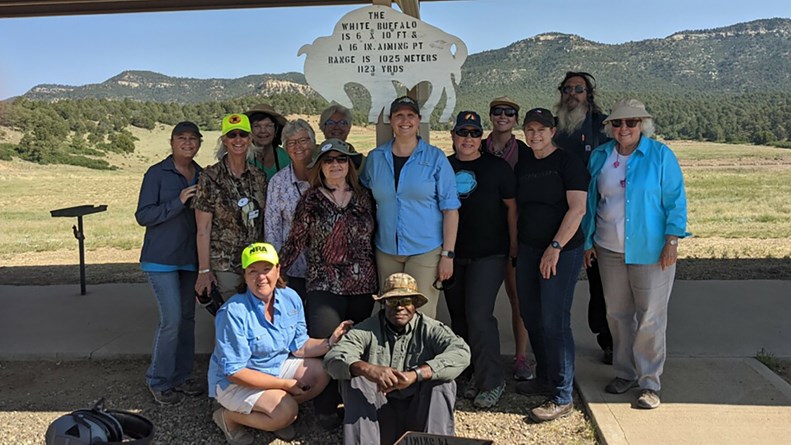 The wonderful WWE volunteers did the necessary data collecting and sighting in for the long range, and gave us guests the amazing opportunity to shoot at targets 200 to 1,025 meters away. It's the farthest distance I, and many others, had ever shot in our lives! The white buffalo was over half a mile away, and shooting it is a true rite of passage at the Whittington center. I even came home with a T-shirt from their gift shot proudly declaring, "I shot the white buffalo!"
After the long range, my group moved to Henry lever-action rifles. My late grandfather left me a Henry. He knew how much fun I had shooting it, so I was particularly excited for this portion. We had a blast knocking steel pig targets off of their pedestals with this unique and enjoyable rifle. Our instructors encouraged us to try our skills standing and sitting, and we each had a shooting partner to spot for us. The team-like aspect was my favorite part.
Finally, we tried out our shotgun, pistol and rifle skills out at a beginner 3-Gun "course." Each discipline had its own station. The shotgun station featured a balloon to pop, sidewalk chalk to blast and a clay to bust. We toppled a row of steel targets with a pistol and fired at two clanking targets at different distances with the rifle. The instructors timed us, so there was also a sense of competition!
Our exciting and challenging last day ended too soon, and that evening felt like the end of summer camp. Some exchanged autographs and kind notes in our souvenir Whittington Center coffee table books like makeshift yearbooks. Business cards, phone numbers and pictures were exchanged, and everyone was sad to leave their new friends and the beautiful landscape.
While the Women's Wilderness Escape only happens once a year, anyone can enjoy a trip to the Whittington Center whenever they wish! The variety of lodging and ranges is sure to accommodate any romantic RV getaway, Wild West girls trip or family vacation. Rent a cabin, pack your favorite firearms and bring your friends and family for the ultimate shooting excursion. It's also the ideal place to introduce your non-shooting friends to the sport and relax in a gorgeous setting.
I hope to see more NRA Women readers next year at my favorite adult summer camp!