To a person driving by the Oklahoma City Gun Range on Sept. 7, 2019, it might have sounded like absolute chaos, but to everyone in attendance at the NRA Women On Target (WOT) Fun Shoot, it was an organized thing of beauty. The 400+ female participants were given a quick orientation before splitting into groups and heading out to one of four outdoor ranges where they tried their hand at the shooting sports, just as thousands of women have done for the last two decades.
There were veteran shooters in attendance, like the vibrant members of the Texas Divas—an all-female shooting club that travels around in jazzy pink and leopard print outfits from the Lone Star State. The Divas make it every year. There were mother-daughter duos looking for something fun to do on a Saturday; groups of college-aged girls interested in self-protection; young ladies ranging from age 13 to women up to 65. For many, like Redena of Oklahoma City who attended the event with her aunt, it was her first time shooting ever. 
"With the passing of Oklahoma's new concealed carry law, I wanted to see if getting a gun is something for me. And if it I do buy a gun, I want to be responsible with it," she said. While Redena was mainly there to shoot handguns, it turned out she loved shooting the AR-15s on the rifle range. "Empowering!" she said.  
As many know, organizing an event of this size involving multiple shooting disciplines, including sporting clays, handgun, rifle and carbine, across multiple ranges is not an easy undertaking. So who is the key figure, the spark plug that makes it all happen? That person is OKC gun club President Suzi Rouse (below, left), who's been putting on the WOT Fun Shoot since its inception 20 years ago. 
"In 1999 I called the NRA and we received a grant to train 10 woman—and money for ammo. We had 57 ladies sign up that first year. This year, 429 registered … and we haven't done any advertising—It's all word of mouth," said Rouse. "That should tell you what a good time this thing is!"
Rouse's entry into the shooting sports began by baking cookies. That's right, the Edmond, Okla., native joined her husband for a day of Cowboy Action Shooting at the OKC Gun Club and offered her cookies to the guys. In return they insisted she try some shooting, and soon thereafter her SASS (Single Action Shooting Society) nickname of "Oh Suzanna" stuck. Not long after that the OKC Gun Club brass elected Oh Suzanna as the Director of the Woman's Division; the first thing she did was organize a marquee event—the WOT Fun Shoot. By 2001 she became the second vice president of the club, and by 2006 Rouse became its president, a role she currently holds.
"We're certainly geared for brand-new shooters," said Rouse, but there's something for everyone. Ultimately, the goal is to change women's attitudes toward guns and shooting if they've never seen guns in a positive environment."
Around noon the ladies gathered back at the clubhouse where sack lunches from Chick-fil-A were served and copious prizes handed out. In fact, myriad national companies, such as Glock, Benelli and others set up tables of merchandise to showcase their wares to this audience; many donated prizes. Everyone left with something, not the least of which is new knowledge and friends.
Jasmine, a 30-something who drove from Oklahoma City with a group of girlfriends to see what all the noise was about, said she was surprised that the AR-15s were so fun to shoot—although she liked it all. 
"Very cool!" she said, smiling after ripping off a satisfying burst of .223-cal. fire from the carbine.
Another popular event was held on the shotgun range where ladies—the fastest growing demographic of shooters—gleefully blasted clay pigeons from the air.
"That's just it," said one attendee named Jennifer: "Until you try it, you likely have no idea how fun it is!"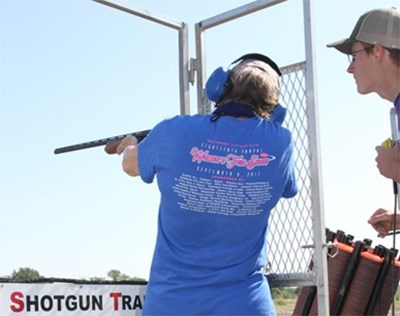 Mark Vaughan, former president of the OKC Gun Club, current Club trustee and NRA Board member, has supported the event from the onset. He was Club president in 1999 when Rouse asked to onboard it to the club's lengthy list of activities and programs. Since then he's only missed one shoot; on this day in particular, he was helping out on the handgun range.
"I think for a lot of women, guns remain within the realm of men; but this event draws back the curtain of mystery for some, so they can see that there's a vibrant community of female shooters out there—and that shooting isn't daunting or mysterious—but enjoyable for everyone."
To register for the 2020 event, go to info.okcgunclub.org/WomenOnTarget2020.pdf. The cost is $20 per adult, $15 per child. Cost covers lunch, ammunition and gun use. Participants need not bring their own guns. Registration period ends in mid-June. 
To learn more about NRA's Women on Target Instructional Clinics, and to find one near you, please visit wot.nra.org