by
posted on July 31, 2021
At the top of our lineup this week is, of course, news of the Olympic Games in Tokyo. Team USA's Amber English proved why she is the world's top-ranked skeet athlete, setting an Olympic record and winning the gold medal in at the Tokyo games on July 26, 2021. English, who bested current champion Diana Bacosi, of Italy, becomes only the second U.S. shooter to ever win the gold in women's Olympic skeet event. 
The list of Americans who have won shooting medals in the 2020 Olympic Games continues to grow, as Team USA's Kayle Browning took a silver medal in Women's Trap Thursday in Tokyo. "This the pinnacle of my career so far," Browning said after her performance. 
Congratulations to Team USA's Mary Tucker and Lucas Kozeniesky, who rallied to take the silver medal in 10-meter Mixed Team Air Rifle, finishing the match 17-13, second to the team from China. In this new Olympic event in which the first team to 16 wins, the head-to-head matches require the members of two final teams to each take one shot simultaneously. Find out more here.
A little closer to home, Mikole Hogan, 17, of Montgomery, Texas, set a new J2 3x20 national record with a staggering score of 599-48X during the 2021 National Three-Position Precision Air Rifle Championships. Hogan earned the record during the Junior Olympic (JO) portion of the Championships, which also saw a new Team 3x20 national record score, fired by the Texas Hill Country Shooters. Check Mikole's story out here.
"I don't know exactly what it is," a longtime friend and Western hunting guide told me, "but some of my worst clients have been husband-and-wife teams where the wife doesn't have much prior hunting experience." Should you hunt with your significant other? Columnist Jo Deering has some thoughts.
When a voice rises above the political fray with something real, honest and fundamental about America right now, people stop to listen. Rep. Debbie Lesko (R-Ariz.) offers such a voice on the Second Amendment today.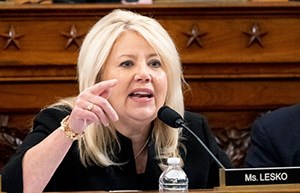 She uses an American common-sense approach to point out the flawed thinking of those who argue that infringing on the rights of law-abiding gun owners will somehow talk criminals out of breaking the law. Our friends at America's 1st Freedom have the scoop.
It has been said that some people change because they see the light and others change because they feel the heat. Regarding that latter group, some people only get serious about their personal defense after they have been the victim of a criminal attack. Whether you're the former or the latter, Sheriff Jim Wilson has some tips about maintaining that critical defensive mindset.
Does the outdoor enthusiast in your life have a special occasion coming up? A Wild Game Sampler gourmet food gift from Burger's Smokehouse could be just the ticket. Who wouldn't love to receive a gourmet assortment of smoked duck, pheasant, venison and other delicious wild game meat? Our friends at American Hunter have the rest of the story.