At the top of our lineup this week are three hot new firearms releases! It starts with Editor-in-Chief Ann Smith's first look at the all-new Mossberg 940 Pro Tactical Shotgun. There's a lot of hype out there about it, but can you believe everything you'll read on the internet?
To find out, she headed out to Gunsite Academy in Paulden, Arizona, and met up with a group of eight women, along with renowned Rangemasters Il Ling New and Mario Marchman. The "SIREN"s (She Is Ready and Engaged) were invited by Mossberg to a pre-launch event to try out the new model, along with the new Mossberg MC2sc optic-ready pistol. Read more here!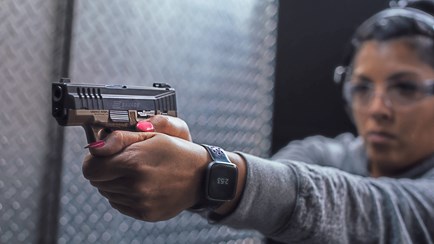 Next, Savage is officially back in the semi-automatic handgun business with this year's release of the new polymer-framed, striker-fired Stance 9 mm semi-automatic pistol. Designed for daily concealed carry, it looks a good deal like the many other micro-compacts currently garnering the attention of the self-defense marketplace. Savage wisely did its homework to ensure this gun would stand out in the polymer-framed crowd. Let's take a look at five unique qualities this pistol has to offer.
SIG Sauer has announced the P322, a U.S. designed and manufactured optic-ready, suppressor-ready 22 rimfire pistol, with a 21-round magazine capacity. The fully ambidextrous P322 features a stainless-steel frame and polymer grip designed to fit all hand sizes. Here's what we know so far.
Do you love to hunt and want to turn it into a living? Many people have this dream and the hunting industry is full of so many passionate people. While this is a positive for hunting as a sport, it makes it that much more difficult to stand out. There will always be someone who loves it just as much as you do or is better than you, so don't rely on just your passion or skill to achieve success. Who better to give advice here than Melissa Bachman? Here's how to profit from your passion for hunting.
Speaking of outdoor legends named Melissa, Melissa Gilliland was recently named the Top Lady and placed 4th overall at the Accuracy International Long Range Classic. This annual competition was held at Altus Shooting Solutions in Baker, Florida. There, Gilliland dominated a challenging course in high winds and cold temperatures. Congratulations!
Are you new to hunting, or have a best girlfriend, mom, sister or daughter who is ready to venture into the turkey woods for the first time? If so, this might be the year to do it, as Shoot Like a Girl and Beretta have partnered again to give two lucky winners an all-expenses paid guided turkey experience in Kansas, April 21 - 25, 2022! Click here to find out more.
Taking someone shooting for their very first time puts some responsibility on your shoulders to do it properly. You want any new shooter to enjoy the experience so they want to join the 2A community and become an active participant in the shooting sports—not humiliate them, hurt them or otherwise drive them away. Here's how you do that.
Ever heard of Browning's "other" classic pistol? He began work on it in the mid 1910s and when he passed away in 1926, before the pistol was ready, his protégé Dieudonné Saive picked up the blueprints and completed what would become the "Grande Puissance" (High Power) for Fabrique Nationale (FN) of Herstal, Belgium. Here's how the Flemish learned to speak "John Moses Browning."
NRA's Institute for Legislative Action (NRA-ILA) applauds Gov. Eric Holcomb for signing House Bill 1296, NRA-backed legislation that allows law-abiding gun owners to carry a firearm without a permit from the state. Details here!