At the top of our lineup this week is this "Product Safety Warning and Recall Notice" from Walther Arms regarding certain models of its PPS M2 pistol.
Please click here for specific instructions to see if your Walther is affected, and how Walther will correct the problem.
What a MasterPiece! Well, the MasterPiece Arms Regional Precision Rifle Shooting (PRS) Match certainly was, and the top artist was Team Berger's Missy Gilliland. Gilliland painted 85 out of a possible 100 bullseyes during the May 1 match, taking both first place and Top Lady. That means Gilliland's work of art was "best in show" regardless of whether the shooter was male or female. 
Have you ever been startled by a bang! Bang! Bang! from a shooter in an adjacent bay rapidly emptying a magazine? Sometimes indoor ranges leave something to be desired for a peaceful shooting experience, let alone a productive learning environment.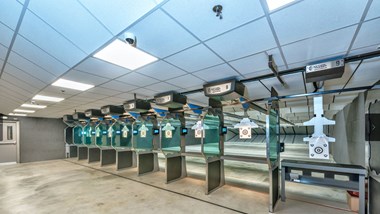 This Seattle-area range is changing everything, and has raised the bar when it comes to shooting indoors.
You hunt with a shotgun, enjoy clay-target games, and hope your child/grandchild will one day develop an interest in those same shooting sports, as well. As a result, you may be considering purchasing a beginner's shotgun for him or her to encourage those interests. But which gun to buy? 
We have big news in NRA Publications! We're pleased to announce Mark. A. Keefe IV, has been appointed Editorial Director, succeeding John Zent, who held the post from 2004 until April of this year, retiring after nearly four decades as an NRA staff editor. Brian Sheetz will replace Mark Keefe as editor in chief of American Rifleman. 
America's 1st Freedom managing editor Melissa Dixon writes, "Concealed carry is trickier for me than many other people because I'm only 5 feet tall and 110 pounds.
So, the first thing I consider with any gun is its size. This Kimber Micro 9 Rapide in Black Ice, however, is small enough at 4 inches tall and 6 inches long for me to conceal it with the help of the DeSantis Slim-Tuk holster." Read and watch Dixon's episode of iCarry here!
As good as guns are today, there are occasionally problems. The latest is a Safety Bulletin from Ruger about its Ruger-57 pistol having a right safety lever that may be prone to cracking. This is not a "recall"—it is a bulletin. It is my understanding that there are very few guns identified thus far that are affected; you have about the same chance of being hit by a meteorite as having this issue with your Ruger–57. That said, it's still a good idea to know how to function-check your gun. 
What has Shoot Like a Girl been up to? Recent days have seen the reveal of their new full wrap, new processes to inform guests through product demonstrations, and planning for the implementation of a new experience, Hunt Like A Girl. We at NRA Women may just have a little update of our own on that last very soon, but in the meantime, check out the report!