As we know, the year 2020 saw a dramatic increase in gun ownership—millions, in fact. Many of these purchases were by first-time buyers, and a large percentage of those first-timers were women. But what exactly were the women buying? While we can't possibly know what every woman in the U.S. went home from the gun store with, we can get a good idea from the representative sample offered by the results of The Well Armed Woman's annual survey of gun purchases, in which nearly 6,000 women participated and offered opinions.
Here's why we think surveys like this are so important. If you're ready to buy a pistol, learning what other women like and why can be extremely useful in helping you to narrow down your decision. With so many new models of guns on the market, it can be hard to know where to even begin your search. The good news is, as more women are buying and talking about their guns, industry leaders keep listening, designing even more female-friendly firearms. See what the women of The Well Armed Woman are buying! 
1. SIG Sauer P365 

We are not surprised that the most popular gun purchased by the TWAW women surveyed in 2020 was also one of the best-selling pistols in the entire United States. Swapping places with the top manufacturer reported in 2019's TWAW survey, the SIG Sauer P365 is the pistol that inspired the flurry of higher-capacity 9 mm micro-pistols introduced to the concealed-carry market. Introduced in 2018, the first pistol of its size and caliber to feature a standard 10+1 magazine (12 +1 with the extended magazine), now is offered in an "XL" model with a standard 12+1 capacity and optional 15-round mags. Features on this pistol that women most loved: size, grip and round capacity. sigsauer.com
2. Smith & Wesson M&P9 Shield EZ 
Introduced in early 2020, we would have been shocked if this pistol didn't regularly appear in the top 3. After all, it is modeled after its wildly popular petite predecessor, the M&P380 Shield EZ, which took the firearm industry by storm when it was introduced in 2018—and was at the top of last year's TWAW survey. The M&P9 Shield EZ features the same easy-to-rack slide and mild recoil, but is now offered in the larger 9 mm self-defense chambering. The best news is that it's negligibly larger than the .380 ACP model, making this a great first CCW pistol, especially for those who have difficulty manipulating the slide on a semi-automatic. smith-wesson.com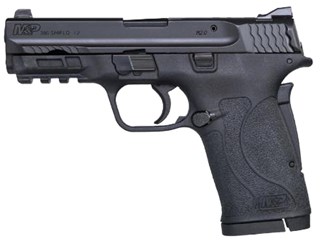 3. Smith & Wesson M&P380 Shield EZ
If it ain't broke, don't fix it, right? Moving into third place on the list is this phenomenal M&P380 EZ pistol that was the game changer for new shooters in 2018, especially for many women (and men) who had difficulty with slide manipulation due to diminished hand strength and conditions such as arthritis. The women in the survey still love this gun's effortless functions and lightweight frame. Easily tucked away in concealed carry clothing, the pistol features a double safety—ideal for EDC. smith-wesson.com
4. Glock 43
The Glock 43, which answered the question, "What took you so long, Glock?" when it was introduced in 2015 as the manufacturer's first compact 9 mm option, drops to fourth in the survey, but retains its popularity for being an extremely reliable pistol for women and men alike, especially with those who demonstrate brand loyalty. Small and slender for optimal concealment, recoil is still manageable. glock.com
5. Glock 19
Arguably the world's most popular pistol, the 9 mm Glock 19 has a little more size on it than other guns on this list, but its renowned reliability, 15-round capacity, light recoil and easy takedown assure that the G19 will stay on many lists of favorites among both men and women for years to come. glock.com
6. Springfield Hellcat

An underrated favorite, perhaps? The Springfield Hellcat has been one of the best-selling pistols of 2020, largely due to its ability to pack 13+1 9 mm rounds in its micro-sized grip. While some have reported a bit of slide tension and snappy recoil, this ultra-concealable gun is still a pleasure to take to the range.
7. Smith & Wesson M&P Shield
After all these years, the original M&P Shield in 9 mm continues to be a mainstay in this Top 10 list. Granted, it's given way to its newer EZ cousins, but women still comment about the way this gun feels in their hands. It's all about the grip with this gun, reported as secure and comfortable. As with many of the small polymer 9 mm, it packs a punch, so a bit more range time should be in order so that you are familiar with the recoil in the event you are forced to use it in a defensive situation. smith-wesson.com
8. Glock 43X
It seems the "X" designation has adorned several popular models of pistols in the past few years, and the Glock 43 is no exception. Typically this means the pistol's frame remains the same, but an added round capacity makes the gun just that much more appealing as a defensive choice. If you love the reliability and ease of use with the 43, but feel more prepared with 10 rounds of 9 mm, give this third Glock on the list a shot. glock.com
9.  SIG Sauer P238
The .380 ACP-chambered SIG Sauer P238 has been a favorite among women for years, dominating the market not too long ago as an easily operated concealed-carry option. This historically popular pistol may be the inspiration behind the booming micro-size polymer personal-protection market. Still, as fantastic as many of the new striker-fired pistols are, there's something about a hammer-fired steel-frame 1911-style pistol, with its unmistakable smooth trigger. A buttery slide and barely-there recoil make this smooth pistol ideal for anyone with hand strength issues. It holds 7+1 rounds, and the surveyed shooters praised the light trigger pull and small size.
10. Ruger SR22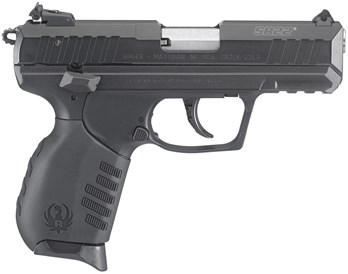 Perfect for new shooters, this .22 LR rimfire pistol can help a newbie gain confidence and get in a lot of practice. Low recoil and cheap ammo make it an ideal practice pistol. While a gun chambered in this caliber typically isn't  recommended for self-defense, it provides a new concealed carrier the opportunity to become accustomed to the responsibilities of arming themselves.