I was at the Western Hunting and Conservation Expo in Salt Lake City when I walked past the Azyre Gear booth. I came to a halt, surprised that I had not yet heard of this new women's hunting clothing line—after all, since this is my line of work, I am usually on top of the latest in women's hunting attire. I met owner and avid sheep hunter Cari Goss (shown here), who told me it had launched just in time for the show.
After feeling the fabric and observing the line's finer details, I ended up in Azyre's dressing room sporting base layers, insulated layers and outerwear. It felt so great that I wanted to buy it all. The base layers are akin to favorite pair of pajamas. As for the pants, the fact I am 5'11" makes it tough to find pants that are long enough. Goss eliminated that problem by letting hunters custom order the proper inseam, whether 27" or 34".
Another bonus? For women who carry concealed, Goss also unveiled the fittingly named "Cari vest," which offers ambidextrous carry options featuring zippered pockets and holsters for a firearm, gun, pepper spray, knife, extra magazines and more. Available in three colors, it is designed with outside access so whatever one carries is easily accessible. 
"Because we know even when you're not on the mountains you'd like the security of concealing your firearm." said Goss. "Anything short of this would jeopardize the very reason I started my journey. It became clear to me that I needed to create apparel as capable as the women who will wear it."
Goss says her company is about empowering the outdoorswoman to pursue her passions with confidence, and worked with a women's clothing designer in Texas and reviewed more than 50 pattern options en route to creating Azyre. "Our products are designed to fit, function, and feel the way a woman needs and wants. That's why we created the most technically driven outdoor apparel designed for women, by women." Anything short of this would jeopardize the very reason Goss says she started her journey.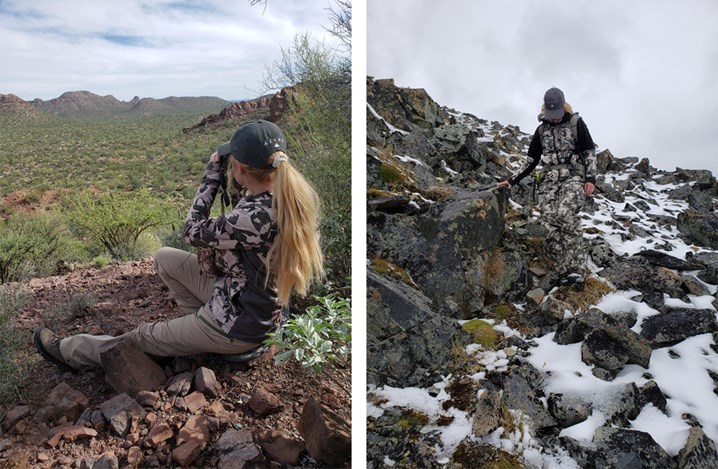 After wearing the clothing in the turkey woods, and realizing the material should have snagged several times, I knew I'd made a good buy. Since then, I've worn it on hikes up and down the canyons on my property and am now confident I will have no trouble scaling the steepest mountain to chase bugling elk this fall. 
It was in 2016 that Goss, who says she finds herself closest to God and most at peace when she is hunting with her soulmate and husband, Leo, recognized she was not alone in her quest to find the right women's performance gear. "There are many other women who find inspiration, bond with friends and family, and enjoy life in the outdoors," she said. "It was my goal to recognize and empower these women to pursue their passions with confidence ... and the idea to create Azyre was born." 
Additional Reading:
Staying Connected—to Nature and Family—Through Turkey Hunting