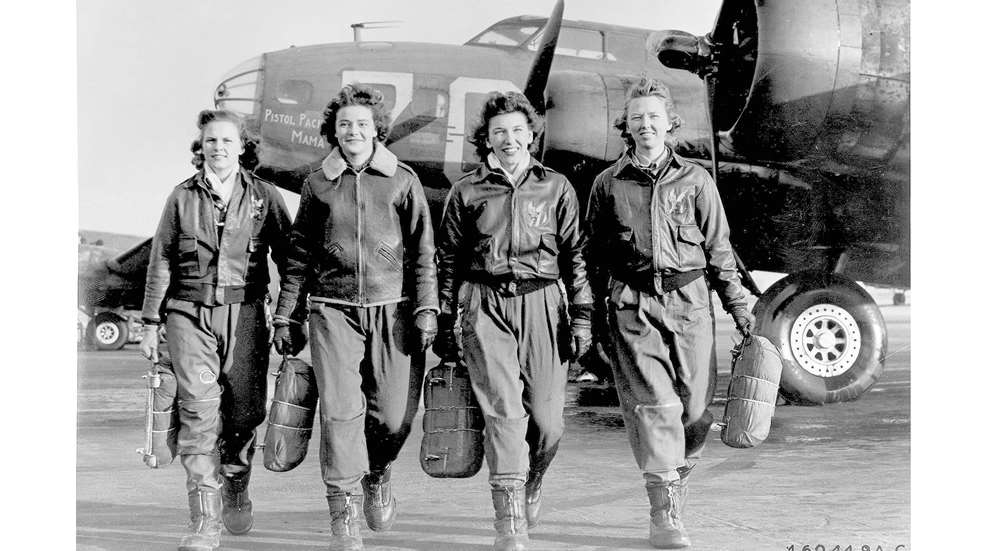 When we think of women and World War II, we typically think of homefront roles related to war production. While women in shipbuilding and aircraft production did indeed make a critical contribution to the American war effort, they contributed in other critical ways on the homefront as well as the battlefront, and the anniversary of D-Day provides an excellent opportunity to remember those other contributions. In aviation, they not only made the aircraft that would ultimately fight in the skies above France, they also flight tested and ferried those aircraft under the auspices of an organization known as the Women Airforce Service Pilots (WASP). Through the WASPs, women also provided flight instruction to trainees at stateside air bases. Thus women built and delivered many of the bomber, fighter and troop carrier aircraft that would be used during the Normandy invasion in addition to training some of the men who would fly those same aircraft in combat on Tuesday, June 6, 1944. 
American women also meaningfully contributed to the war effort as ordnance workers, and many of the bombs, shells and guns they made armed the troops who landed in northern France on D-Day. They were known as "WOWs" (Women Ordnance Workers) and they worked at places like Remington Arms in Bridgeport, Connecticut, the Cornhusker Army Ordnance Plant in Grand Island, Neb., and the Springfield Armory in Massachusetts.
 They also worked on the various assembly lines at GM's Guide Lamp Division in Anderson, Ind., where they made headlight reflectors, brass shell casings for 37 mm, 40 mm, 90 mm and 105 mm guns, aircraft parts, .50-cal. machine gun barrels and even the legendary M3 Submachine Gun. Beginning in January 1943, WOWs were directly involved with production of the "Grease Gun" as press operators, welders and inspectors. More than 85,000 M3s left the Guide Lamp factory during that first year of production and a few hundred of them would ultimately bring the fight to the enemy in the Grease Gun's combat debut on D-Day. 
Top: WASP Elizabeth L. Remba Gardner of Rockford, Ill., poses in the cockpit of a Martin B-26 Marauder Medium Bomber at Harlingen Army Airfield, Texas. (National Archives and Records Administration/U.S. Army Signal Corps 111-SC-542191). Below: A WOW test firing a Guide Lamp M3 submachine gun.
While it is true that WOWs were directly involved in producing the weapons that armed American fighting forces during the Normandy invasion, it is important to remember that women participated in the battle itself as well. They did not do so as a part of combat arms units, and they did not come ashore on June 6, but they were nevertheless a part of the campaign. As the landings began on D-Day, the U.S. Army's 128thEvacuation Hospital departed its staging area in Wiltshire and proceeded to Falmouth on England's south coast for embarkation aboard the transport SS William N. Pendleton. The ship departed on June 9, arrived off of Utah Beach during the afternoon of Saturday, June 10, and immediately began landing personnel from the 128th. Just after 3:30 p.m., 2nd Lt. Margaret B. Stanfill (below) of
Pemiscot County, Mo., transferred to a landing craft with a group of other female and male medical troops. The landing craft then made its way to the beach at Les Dunes-de-Varreville just over one mile north of where the 4th Infantry Division had struggled to establish the beachhead four days earlier. When the ramp dropped a few minutes later, 2nd Lt. Stanfill stepped off into the water and splashed her way to the dry land that was waiting just a few meters away. She was unaware of it at the time, but when the 23-year-old nurse sloshed up onto the beach, she was the first American woman to set foot in France as a part of the invasion force that had come to liberate the country. 
Although many more American women in uniform would follow, Margaret Stanfill enjoyed a brief moment of notoriety for being the first among them. In fact, as the 128th Evacuation Hospital set up and began treating the wounded near the village of Boutteville three miles southeast of Ste.-Mère-Église, an Army Signal Corps photographer was ultimately sent to capture some photographs of 2nd Lieutenant Stanfill. A veteran of the North African campaign, she survived the Normandy campaign too, and lived to see old age. She passed away in Harris County, Texas, in August 2006. Just 15 miles east of the spot where Margaret Stanfill waded ashore near Utah Beach on June 10, 1944, there are four other American women who came to France just after D-Day and never had the chance to leave. Three were U.S. Army soldiers: Mary H. Bankston, Dolores M. Browne and Mary J. Barlow; one was an American Red Cross volunteer, Elizabeth A. Richardson. They remain buried today in the Normandy American Cemetery on Omaha Beach and they remind us that young American women were a part of it all too. They may not have been assigned to combat units, but they paid the same price as the men buried in the cemetery. In the center of that cemetery is a small chapel for families of the departed or anyone wanting to meditate about the cost of the Normandy invasion. On the outside wall of the structure are the words:
THIS CHAPEL HAS BEEN ERECTED BY THE UNITED STATES OF AMERICA IN GRATEFUL MEMORY OF HER SONS WHO GAVE THEIR LIVES IN THE LANDINGS ON THE NORMANDY BEACHES AND THE LIBERATION OF NORTHERN FRANCE
It should say "daughters" too. 
PHOTO GALLERY:

Soldiers of the Women's Army Corps in formation. (National Archives and Records Administration/U.S. Army Signal Corps 111-SC-189785)

Nurses with a U.S. Army evacuation hospital coming ashore at Les Dunes-de-Varreville in Normandy shortly after D-Day.

Woman Ordnance Workers at the Cornhusker Army Ordnance Plant in Grand Island, Neb., working on 105 mm shells. Plant workers began production on November 11, 1942, and loading operations continued until the end of the war. Note that the worker at left is wearing the distinctive Ordnance Corps headscarf unique to the WOWs.

Workers install fixtures and assemblies in the tail fuselage section of a B-17F bomber at the Douglas Aircraft Company plant in Long Beach, Calif., in October 1942. Women were involved in building many of the aircraft that would eventually support the D-Day invasion. (Library of Congress LC-USW361-103)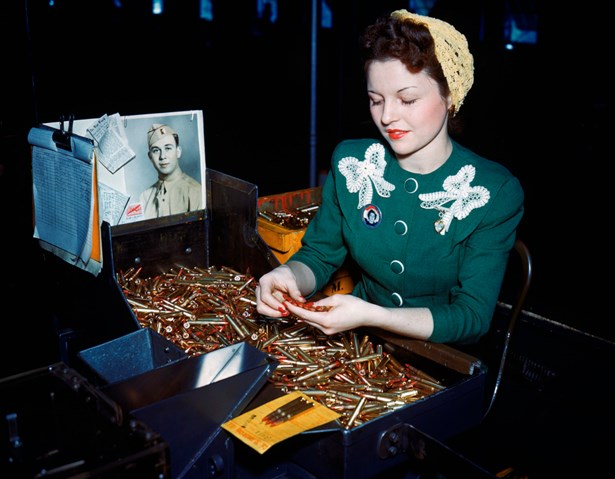 WOW Fee Perez inspects .30-cal. cartridges at Remington Arms Company's Bridgeport, Conn., plant alongside a pinup of her husband, Melburn H. Perez (S/N 34055881), who was serving overseas at the time.

Genevieve Slefanit, an employee at Springfield Armory, inspects an M1 Garand on Feb. 25, 1942. Springfield employed a large number of female workers during the war and many of them were involved in production of the M1 rifle. Thousands of those M1s were ultimately carried in combat in Normandy. (National Archives and Records Administration/U.S. Army Signal Corps 111-SC-639011)

Nurses from the U.S. 1st Army's 13th Field Hospital eating field rations in Colleville-sur-Mer just inland from Omaha Beach on June 15, 1944. (National Archives and Records Administration/U.S. Army Signal Corps)

Nurses from the U.S. 1st Army's 13th Field Hospital cleaning up after chow in Colleville-sur-Mer just inland from Omaha Beach on June 15, 1944. (National Archives and Records Administration/U.S. Army Signal Corps)

Three soldiers from the Women's Army Corps decorate the grave of a fallen soldier at the temporary American Cemetery at La Cambe just south of Omaha Beach in July 1944. This was one of the many temporary cemeteries created in Normandy during the campaign.