by
posted on July 17, 2021
At the top of our lineup this week, a challenge and a question for our NRA Women readers: Would you like to help other women learn marksmanship, gun safety and self-reliance? Become an NRA-certified instructor!
First, columnist Heidi Lyn Rao walks you through just what an impact you can make. Then, she gives you the skinny on how to make it happen for yourself (it's easier than you think, and it can be a very nice career)!
Shoot Like A Girl founder Karen Butler, whose new program exposes more women to hunting in a fun, safe and encouraging environment, said Shoot Like A Girl is taking its mission to the next level by giving women an opportunity to partake in the hunting experience with guidance from an all-female staff. Our own assistant editor, Ashley Thess, loved every moment of her first hunting experience with Hunt Like a Girl ... and we bet you will, too.
While we might not be privy to every sacrifice, setback, mini victory and major internal reflection these women experienced on the road to the 2020 Tokyo Olympic Games, the passion and hard work they've put in over the years is evident in their individual victories that brought them to the highest level of international competition. Find out what the women of USA Shooting, the national governing body for the shooting sports, are made of.
Speaking of our shooting Olympians, Mary Tucker, will compete for Team USA at this summer's Tokyo Olympics. Currently ranked No. 1 in the country for air rifle, Mary has made a name for herself in the shooting sports since her collegiate debut. Our friends at Shooting Sports USA have an in-depth look at Tucker's background and goals.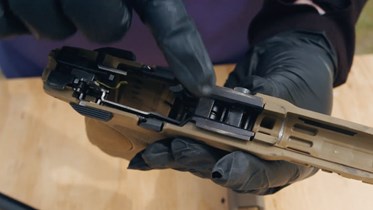 Does the phrase "field-stripping" make you think of soldiers in Basic Training mastering complex tasks? Field-stripping your semi-automatic handgun is much simpler than it sounds, as Smith & Wesson's Julie Golob demonstrates in this video from the iconic gunmaker's GUNSMARTS series.
In the aftermath of a violent encounter, it is human nature that we feel angry and scared. And, under those conditions we are likely to say things that we probably shouldn't. That is the reason that armed citizens are advised to have an attorney present during questioning. However, there's a lot more to know about why you should be careful what you say. Our friends at Shooting Illustrated have the story.
Contributions to MidwayUSA's NRA Round-Up Program, which surpassed $20 million on Tuesday, July 6, 2021. The company launched the effort in 1992 as a conduit for customers to help support the fight for our Second Amendment rights. During checkout, shoppers finalizing their purchase have the option of rounding up their purchases to the next dollar. The change is then donated to the NRA Institute for Legislative Action. Want to know more?