by
posted on January 22, 2021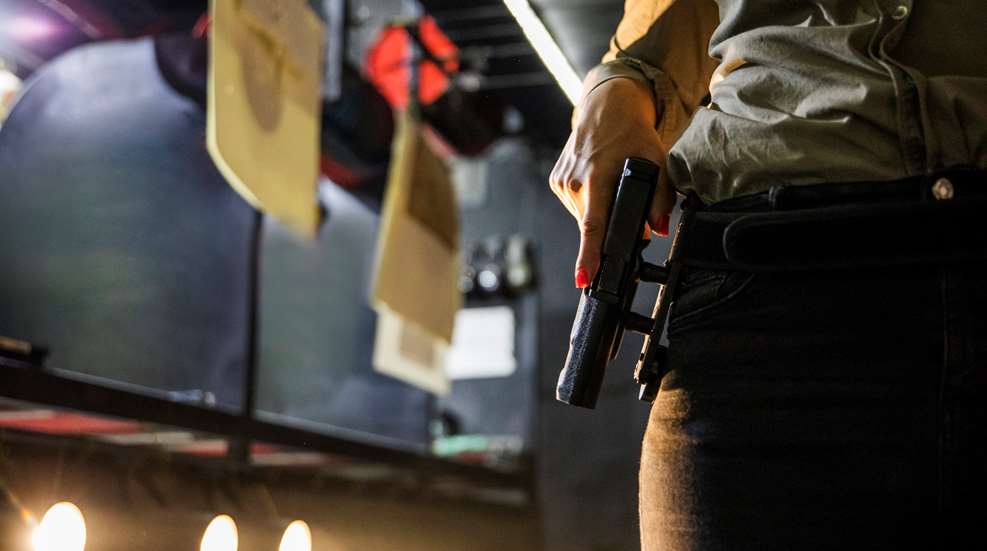 Without the in-person SHOT Show to grant us a one-stop-shopping view of many of the outdoor industry's 2021 offerings, NRA Women are scrolling through virtual rollouts of new models, line extensions and new calibers from many of the firearm manufacturers. While we are all grateful there are signs of numerous products worth testing this year, and respect and admire the industry for doing their utmost best to keep the production lines warm and the doors open, we are feeling a bit bereft, having barely had a chance to showcase many 2020 models that deserved a brighter spotlight.
Lest these guns be forgotten by the introduction of the New and Shiny—which we will be doing for the foreseeable future—we are sharing four of 2020's standout pistols of interest to NRA Women:
Smith & Wesson M&P9 Shield EZ =
There's no disputing the popularity of Smith & Wesson's M&P9 Shield EZ, the 9 mm follow-up to the iconic gun maker's .380 ACP EZ model introduced in 2018. The semi-automatic pistol has received countless accolades for having the same easy-to-operate functions as the original (in particular its effortless slide), boosted by the more powerful self-defense chambering. The pistol has been extolled by NRA Publications editors, even winning NRA Women's 2021 Golden Bullseye Award for Handgun of the Year.
This pistol has not only found favor among women, but with those who experience difficulty operating a semi-automatic pistol due to conditions such as arthritis. Shortly after its release, Smith & Wesson expanded the 9 mm EZ even further by offering Performance Center models that feature upgrades to sights, trigger and more, making the shooting experience even more enjoyable. MSRP starts at $428. Smith-Wesson.com.
Mossberg MC2c
I first fired the 9 mm Mossberg MC2c at Industry Day at the Range during SHOT Show 2020, and after the identifiable ping! ping! indicated I'd connected with the steel targets, I fell instantly in serious "like." Slightly larger in grip width—.05"—and about 2 oz. heavier than its 2019 subcompact predecessor, the MC1sc, the MC2c is still very concealable. Despite the negligible size difference, the slim-profile MC2c has managed to double its capacity by utilizing double-stack magazines that can accommodate up to 15 rounds. Little did I know it would be nearly 10 months before I could put the gun through an intensive workout, heading to Gunsite Academy in October with a group of 10 women who were testing this same pistol.
Collectively, we shot many thousands of rounds of Federal's Syntech 9 mm ammunition, improving our gun handling and marksmanship skills on the range as well as through a series of Team Tactics exercises. While there, "like" turned to "love" as I found this pistol to be "just right" in terms of fit, feel and function for my small hands. Available in various black or stainless combos as well as with a choice of sights, this gun was truly one of my favorites of 2020, and I plan to continue working it out in 2021 to make up for a lost year. Inventory of these guns, like with most handguns this year, is still scarce, but if you come across the MC2c sometime during your search, don't turn down the opportunity to try it. MSRP starts at $505. Mossberg.com.

Springfield XDM Elite
Full disclosure, I have owned a 9 mm Springfield XD(M) compact for some years and, with a 19-round capacity, consider it one of my favorite defense guns. It's one of those guns that I am at one with, and unlike some, do not object to the grip safety, standard on Springfield's XD Series. I had never imagined retiring it until I discovered its latest iteration, the XDM Elite, or XDME, came along. This pistol caught my attention at SHOT Show's 2020 Industry Day at Range, and I could not resist firing full magazines each out of the 19-round and 22-round extended mags in the 4.5" model. Pulling the trigger on that many rounds in a short amount of time usually inspires a break for my hands, but with this pistol, with its low recoil and comfortable grip, I wanted to keep shooting. And keep shooting I did when I returned back to work and discovered we had a 3.8" iteration in our inventory. I've taken this pistol down to our range on a few occasions and have enjoyed it more each time, and it's now on my "buy" list.
Here's why I think you'll like this gun. First is its trigger, designed with a flat face and an integrated overtravel stop, along with other improvements that are aimed at producing what American Rifleman editors describe as "one of the best production triggers available in a polymer-frame handgun." Next are the removable magazine wells that accommodate the expanded-capacity magazines and facilitate reloading. Improved slide serrations with enlarged grasping grooves at the front and rear are a welcome addition, while an ambidextrous slide stop makes this gun great for both left- and right-handed shooters. This gun is loaded with numerous other features not described here. I've been shooting the XD-M Elite 3.8", but it is also offered in a 4.5" model, as well as the XD-M Elite Tactical OSP Desert FDE and the XD-M Elite Precision. The pistol is also competitively priced, with MSRP starting at $559 for the 3.8." Springfield-Armory.com.

Taurus G3c
Subcompact polymer pistols built in self-defense chamberings like 9 mm—with a 10-or-more round capacity—are now almost mandatory for gun manufacturers looking to stay competitive in the concealed-carry market. There have been quite a few of them introduced in past few years. But with the benefit of higher round counts in the magazine comes the downside, which is that quite often these are just uncomfortable for many women to shoot. Admittedly, while shooting many of these subcompacts I find myself counting rounds so I'll know when the punishment is over. There have been a few exceptions, one of them being the Taurus G3c, introduced last year.
I've fired this new pistol on several occasions and each time have been surprised at how much I have enjoyed it. Women place a lot of emphasis on how things feel, and the grip on this pistol has a noticeably different feel than other guns in this class. I believe it is because the grip's backstrap extends down behind the base plate of the double-stack magazine, which, as we reported in our review of this gun, "helps to protect the shooting hand from getting pinched during reloads and prevents the base plate from nibbling at the palm when the pistol recoils." This has been a recurring problem for me with other guns of similar size, so this pistol, with its light, easy-to-operate slide, excellent sights and trigger, 12+1 capacity and an MSRP under $300, provides enough reasons this Taurus should be given every consideration by women as a concealed-carry pistol ... and one that won't inspire dread on range day. TaurusUSA.com.