by
posted on October 16, 2023
Whether you're a "never pink-er" or secretly wish you could build a bubblegum pink dream home, the spirited debate over the color is omnipresent, at least when it comes to our guns and gear. But as so perfectly advised by NRA Women columnist Jo Deering, "… shoot what you like. If you want a gun in baby-doll pink or Tiffany blue or zebra print, rock on with it. Embrace the pink! Let anyone who judges you for your choices underestimate you at their own peril." 
And although the ubiquitous pink ribbon will forever be known as the most recognized emblem of a worldwide cause—Breast Cancer Awareness Month—pink has made an impact in many facets of the outdoor lifestyle too, whether it be guns, gear, clothing or accessories. The good news is that there are even a few companies who have chosen to specifically designate a percentage of proceeds of their specially created pink products toward breast cancer research. But let's face it, the truth is if pink on products didn't sell, manufacturers wouldn't make them, and by the looks of things, the color as an option for the outdoor community is here to stay.
So whatever your reaction to products that deviate from black, green or FDE—so long as they didn't just "pink it and shrink it," let's help the month have a rosy outcome by showing at least subtle support for the cause. With that said, here are a few of our favorite pink things:
DSG Outerwear Blaze Pink Vest
NRA Woman columnist Holly Marcus first reported on the new "hunter pink" as an officially recognized color for hunters, now in 10 states. Whether you use it for hunting or just like to stand out in the field, we are happy to report that the blaze pink vest—along with other pink items—is still offered by DSG Outerwear. $30.
Browning Range Kit II
Hot pink is in, and it's hard to argue you'll get noticed on the range by sporting this set of Browning eye and ear protection. Three-piece range kit includes shooting glasses, soft foam earplugs with plastic case and adjustable-fit earmuffs with padded headband. $44 on Browning.com but you can find it for less at some retailers.
Hornady Critical Defense Lite Ammo
Hornady gives a portion of its specially packaged and pink-tipped Critical Defense Lite ammo to the GRACE Cancer Foundation in Grand Island, Nebraska, with a matching amount going to the American Cancer Society. Through this initiative, Hornady has now donated more than $1 million over the last several years through a joint contribution to these organizations. Hornady.com 
Federal Top Gun 12-gauge Shotshells
Support the fight against breast cancer with Federal Premium Top Gun Pink Target Load Shotshells. Filled with distinctive pink hulls, the Top Gun Pink Target Load Shotshells deliver Top Gun performance on every shot and send part of the proceeds from every sale to breast cancer research. $12.99/box from FederalPremium.com but you can find them for less at retailers.
Dryshod USA NOSHO Ultra Hunt Women's Cold-Conditions Hunting Boot
Don't put your feet in peril when you are sitting for hours in your stand or in a blind waiting for your trophy to stroll by. These extreme warmth boots are cut for women and offer superior fit and function. $194.95 dryshodusa.com
Streamlight Pink Nano Light
Since 2009 Streamlight Inc, through its line of pink lights, has generously supporting BCRF's mission and is helping to end breast cancer. Since the start of the partnership, Streamlight has funded more than 17,000 hours of research. $9.99 at Streamlight.com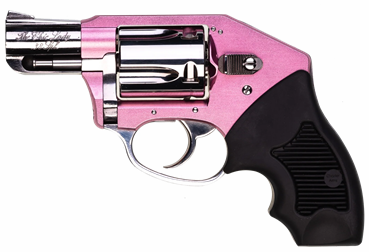 Charter Arms Chic Lady
If you love revolvers, the Chic Lady is another model in Charter Arms' exciting line of colored revolvers. The heart of the Chic Lady is its popular Undercover Lite, but with an attractive pink anodized frame and hi-polished parts. Caliber: .38 Spl. $448
SIG Sauer P365 Rose
The subtle rose-gold touches on the SIG Sauer Rose models of P365 are just enough to acknowledge the feminine intent of this very popular concealed-carry gun.
Offered in both .380 ACP and 9 mm, nobody, even the never-pinkers can't argue with the classy aesthetics of these pistols. SIGSauer.com