Hunting for food is a labor of love all year round. Take it one step further by treating your Valentine (even if that person is yourself) to a gourmet, game-meat dinner. Cherry pick your favorites from this list, or go all out and prepare a romantic five-course meal using your favorite harvests.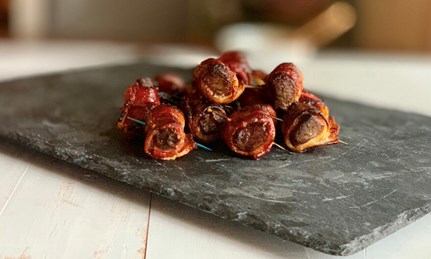 Image courtesy buythiscookthat.com
Hors d'oeuvre: Bacon-Wrapped Venison Bites 
Kick off the evening with sensual finger food that's wrapped in bacon. This appetizer starts with backstrap marinated in olive oil, balsamic vinegar, crushed garlic, mustard and more to bring out the unique flavors of deer meat. Wrapping it in bacon and basting it in barbecue sauce keeps the meat juicy and rich. Find the full recipe on Buy This, Cook That.

Appetizer: Wild Turkey Alfredo Cheese Dip
Who needs fondue? From Field to Plate has created a simple, but delicious, cheesy dip that will warm your heart. Sharing a small cast iron skillet of gooey cheese and wild turkey with your significant other is as romantic as it gets. Did your hands just bump while reaching for the crostini?


Image courtesy irenamacri.com
Salad: Duck Salad with Balsamic Cherries
Put the Caesar dressing down. Leave boring salads to the other 364 days of the year. This Valentine's Day pick a salad that's bursting with flavor and adorned with crispy slivers of duck. The mint leaves, chopped nuts and cherries in this salad compliment the duck wonderfully. A Dijon vinaigrette is drizzled on top, making the sweet and earthy flavors pop.
Entrée: White Wine-Braised Rabbit with Mustard
This quintessentially Valentine's Day meal is brought to you by native speakers of the language of love and rabbits, colloquially known for getting lucky. If French cooking doesn't get you in the mood for love, I'm not sure what will. A delicately seasoned rabbit is accompanied by white wine, thyme, sage, Dijon mustard and crème fraîche. This light, yet complex, mingling of flavors is sure to please.
Charcuterie Board
In keeping with the French theme, typically a cheese plate is served in between the main course and dessert. In my opinion, salty prepared meats pair expertly with a variety of cheeses. Wild boar salami, duck breast prosciutto and venison sausage are just a few examples of the wonderful world of cured, smoked and fermented game meats. Sprinkle in some aphrodisiacs like chocolate, strawberries and figs to sweeten your board. Fromage heart to yours, I wish you a happy Valentine's Day!