Ah, sports. The perfect excuse to drink, eat and watch men in tights. The ballet doesn't encourage betting and bull horns, now does it? Whether you're a die hard fan or waiting for the half-time show, you can't watch the big game without sustenance. If your freezer is full or you recently scored a fresh harvest, these game-meat appetizers are sure to get you in the mood for food.
Venison Sliders
We already know that bite-sized burgers are heaven sent, but what better way to end deer season than to sub out beef for Bambi? After your ground venison is grilled to perfection, slide your patty onto a toasted bun, and top it with dill pickles, Colby-jack cheese and onions. No one will be able to resist this main event … oh, is there a game on?
Elk Stuffed Mushrooms
A sheet of these mushrooms (courtesy of our friends at NevadaFoodies.com) bursting with ground elk, gruyere cheese, parsley and breadcrumbs might not make it to half-time. These herbed hors d'oeuvres are great baked to golden perfection, but if you have an air fryer, now is the time to break it out. Try tossing these savory treats in for 8 minutes at 390 degrees Fahrenheit for expert level apps. 
Wild Turkey Southwest Egg Rolls
Leftover turkey? Marry that with jalapeños, onions, corn and black beans for a Southwestern fusion dish that'll fill you up. From Field to Plate recommends grilling your rolls (shown at top) 5 minutes per side for a perfectly crispy exterior. While spicy mayo or guacamole would do, I would set these next to the queso for the ultimate cheese vessel. 
Honey BBQ Bobcat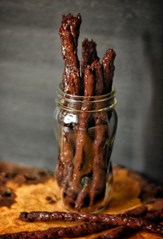 Honey, garlic, pepper, paprika and even more spices will transform your favorite game meat into a delectable jerky, like this From Field to Plate recipe. This sweet and spicy marinade is perfect for ground bobcat as the mild flavor soaks up all of the good stuff. Also, a snack that's served at room temp will continue to fuel your guests well into the fourth quarter. Just don't stress-eat them all before the coin flip ...

Courtesy Deltawaterfowl.org

Bacon-Wrapped Pineapple Duck Bites
Cut your duck breast into cubes; then, pair them with a pineapple chunk in a bacon blanket. The secret is in the duck marinade of teriyaki sauce, garlic and red pepper flakes. The spicy pepper flakes complement the sweet pineapple while the savory duck and salty bacon make it a flavor smorgasbord in your mouth. Entirely too poppable and perfectly rich, you won't even mind if your team is behind, munching on these amuse bouches.