by
posted on June 4, 2022
Yes, even Lena Miculek gets the willies. It may be a little tough to believe that the world champion competitive shooter, CrossBreed Holsters brand ambassador and daughter of living legend Jerry Miculek ever had anything to fear, but of course that can't be true. In this intensely personal and moving video, "No Place For Fear," world champion shooter Miculek opens up about the fact that her journey to carrying concealed really wasn't so different from yours.
NRA Women columnist Jo Deering recently learned a few important lessons about fear during a stress training course at Gunsite Academy, but the one that stands out the most is that you truly never know how you're going to react in a defensive situation until you're actually there. The effects of adrenaline on your system can include tunnel vision, hyper focus, loss of fine motor skills—and of course, the ability to think clearly. Read more to learn from her experience.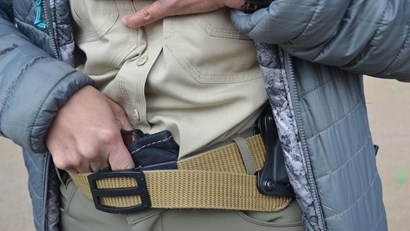 Speaking of training, one of fundamentals you need to incorporate in your regimen is practicing your draw with an unloaded firearm. This is important, because if you can't get your gun out of the holster and into a firing position quickly and efficiently at the moment you need it most, the consequences could be devastating. Learn the 5 Steps to a Good Draw here.
Moving outdoors, most hunters know to always leave vital information like their location, departure time and arrival time with a trusted friend or family member, just in case of an emergency. But what happens when your hunter is actually overdue? NRA Women Associate Editor Ashley Thess shares her personal story—which ends well—of what happened when her cell phone became waterlogged and she was unable to notify her point of contact about her situation. 
Experienced hunter and NRA Women columnist Heidi Rao never turns down an opportunity for hunting or adventure. She has explored the Amazon rainforest in the vicinity of warring tribes, camped in grizzly bear country just to get photos, and removed a 13-foot bull alligator from a local water way after it began attacking canoers and kayakers. So naturally, she jumped at the chance to hunt the top of the Everglades food chain: the Burmese python.
If you're looking for something less intense to do this summer, how about soaking in some American history? To start, head to Philadelphia, Pa., where noted artist and American Rifleman contributor Don Troiani is displaying some of his incredible original artwork at his first-ever major exhibition, which is being hosted by the Museum of the American Revolution. The exhibition opened Oct. 16, 2021 and runs until Sept. 5, 2022, in the museum's first-floor Patriots Gallery.
And finally, with more restrictive measures being lobbed at law-abiding American gun owners, it's important to focus on some positive facts. For instance, when it becomes clear that a popular change in state law does something fundamentally good for citizens' freedom without doing harm, it becomes much easier to get legislators to do the right thing. This is part of the reason for the quick spread of constitutional-carry laws, which now cover half of the states. America's 1st Freedom's Dave Kopel explains more in "The Statistical Truth About the Impact of Constitutional Carry."